REPORT: Scaling-up buildings renovation with ECB credit policy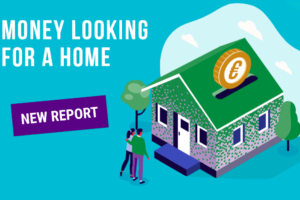 Positive Money Europe's new policy paper, "Money looking for a home", proposes to turn the European Central Bank's Targeted Longer-Term Refinancing Operations (TLTROs) programme into a dedicated financial instrument to scale up bank loans for energy efficiency and building renovations. 
Under TLTROs, the ECB currently provides €1.75 trillion of loans to banks with negative interest rates (-1%), but without climate or environmental conditions. Because of this negative interest rate, the programme is effectively a public subsidy for banks.
The report by Uuriintuya Batsaikhan and Stanislas Jourdan proposes to launch a "Renovation-TLTROs" pilot programme under which the TLTRO rules would be tweaked to offer a super-negative discount rate (below the current -1.0%) to banks on their portfolio of loans that are dedicated to energy-efficiency renovation projects.
Key points of the paper:
With its "Renovation Wave" initiative, the European Commission has rightly identified improving the energy efficiency of buildings through renovations as a key priority for the EU's climate strategy. However, without scalable financial firepower, the plan is doomed to disappoint on its ambition to double the pace of building renovation by 2030. 

The discount rate offered under the Renovation TLTROs programme would boost incentives by banks to extend credit for renovation purposes, by reducing the transaction costs for banks and customers;

It will incentivize and facilitate the process of setting up renovation projects for millions of households and businesses, by turning the banking sector into a distributed network of one-stop-shops for energy-efficiency renovations;

Easier access to bank loans for renovations will incentivise households and businesses to carry out deep renovations instead of lighter and insufficient projects;

With mainstream access to virtually costless renovation loans, a number of existing public subsidies for renovation could be redirected towards

public and social housing or for enhanced and targeted support for low-income households, empowering a fairer and just green transition.
» Read the full report here (pdf).
This post is also available in: French