About me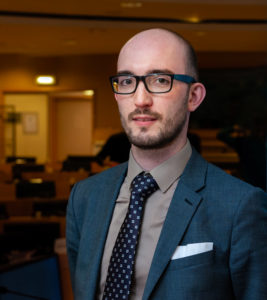 Stanislas Jourdan is the Executive Director of the Brussels-based NGO Positive Money Europe, where he leads advocacy campaigns and research on the European Central Bank and monetary policy. He is also an expert on universal basic income, Eurozone governance, and participatory democracy. He is a former journalist and co-founded UBIE and MFRB.
Positive Money Europe is a fast-growing movement leading a progressive critique of the European Central Bank and advocating for making the Eurozone monetary policy promote a fair, democratic and sustainable economy.
As Executive Director of Positive Money Europe, Stanislas Jourdan has authored reports on green monetary policy and the scrutiny of the ECB. His expertise on monetary policy, basic income and EU institutional affairs is recognized by his frequent engagement with policymakers and civil society leaders. His views are frequently covered in leading European media outlets (including Reuters, Politico EU, Financial Times, Handelsblatt, La Tribune, AFP, Bloomberg, Euractiv, Le Monde, Les Echos) and he is often invited as speaker or moderator in conferences including at the European Parliament, the EESC and the European Council.
Stanislas joined Positive Money UK in 2015, focusing on coordinating the campaign "Quantitative Easing for the People" in the Eurozone. From 2018, he led the establishment of Positive Money's EU office in Brussels, and its development as an autonomous entity.
Prior to 2015, Stanislas Jourdan played a key role in building the basic income movement in France and Europe. In 2013 he co-organized the European Citizens' Initiative for Unconditional Basic Income which gathered 285,000 signatures, and led to the creation of Unconditional Basic Income Europe. He also founded the French movement for Basic Income (MFRB) which counts more than 800 members today. He was also an active editor for Basic Income News.
In 2010, Stanislas started his career as a journalist covering the rise of the sharing economy and the Eurozone financial crisis. He worked for OWNI, La Tribune and wrote for several others newspapers as a freelancer. In 2013-14 he was chief editor of OuiShare magazine and of L'Inconditionnel, a one-time print newspaper. Stanislas obtained a Master in Entrepreneurship (ESSCA Business School) in 2011.
---
Membership to organisations
Stanislas Jourdan is a member of the following organisations:
---
Pictures of Stanislas Jourdan
This post is also available in: French